Sharon "Polly" McEwen
Sharon McEwen, better known as Polly was Born and raised in Gulargambone. She has six daughters and 10 grandchildren. During her life she has worked in educational and health roles in her town, working at the Gulargambone Pre-school for a number of years before becoming a nurse's aide at the local hospital. Polly is a member of the Gulargambone Land council member and sits on the Gulargumbone CDEP board.
Contact: pollymcewen17@hotmail.com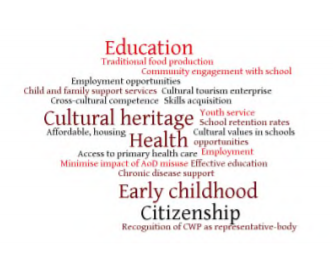 Gulargambone Community Priorities and Priority Actions
- As custodians of our land, voice of the first inhabitants and residents of Gulargambone, work towards greater recognition of Gulargambone Aboriginal Community members as citizens wishing to take a genuine place in society and contribute leadership to the wellbeing of our community;
- Strive to create a caring environment to safeguard the emotional health of our children to give them every chance of a life free from harmful influences;
- Invest in the education of our children so that our children and our children's children may have every opportunity to know a better life; and
- Take it upon ourselves to keep ourselves safe and in good shape by living a healthy lifestyle in a caring social environment.